I'm now in my 40s (OMG!!) I don't emotionally feel it, but my body is beginning to feel it. I've been suffering from Tendinitis in my shoulder, I'm hugely unfit and I have a dodgy lower back.
I feel I need to get some kind of fitness regime into my life, my idea was to start working on toning and core stability....so Yoga. I have never done it, I know only a little about it, but I do have a lovely friend who has recently qualified as an instructor. So I've asked her to give me a couple of lessons to see if I like it, then maybe I'll join a class we'll see.....
Wish me luck :o)
Housework
I'm thinking our new routine of relax and do what you want Saturdays and Housework Sundays is working out OK for me...not sure about the family, I'm sure they'd be quite happy with relax city all weekend. :o)
All I know is we're finally getting some sorting done around the house and by Sunday evening I feel lighter and better about my weekend.
We got loads of work done on the sitting room and I did a big wash, still loving my twin tub. The sitting room still needs work, as I have yet to move the fish tank, but at least we've made a bit of room for it. DD worked on her bedroom (apparently).
Crafting
So I tried a new technique for a swap recently. It was a creepy cute swap and I wanted to make some wall art. One of my themes were Zombie Mushrooms. I used the Chinese Mushroom dance from Fantasia as my inspiration. Then I went hunting for materials. I purchased two old picture frames for about £1 each and I got an old medical dictionary for 20p. Finally I drew two zombie mushrooms and then added a little red paint and some glue. These are my final pieces.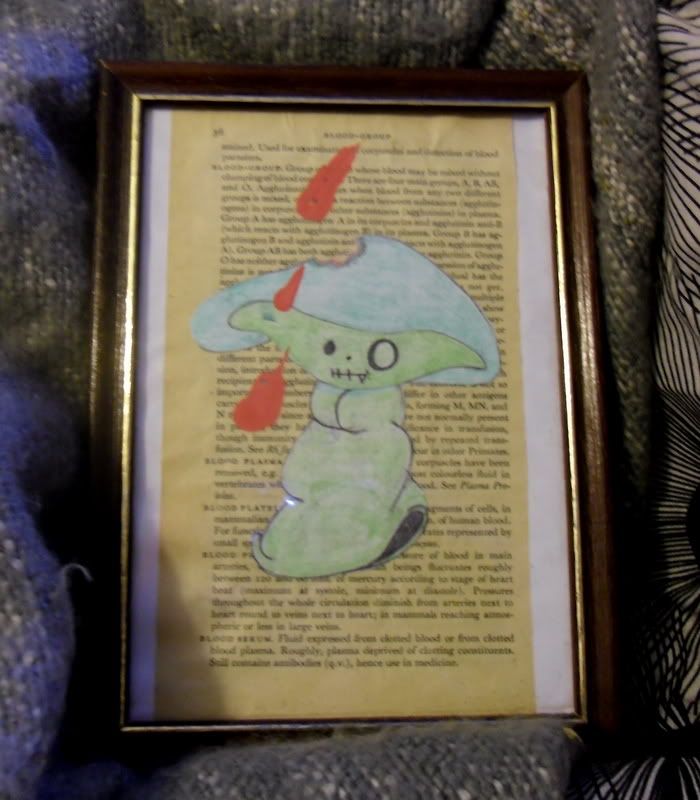 I was really pleased with how they turned out